The Foodie Friday post this week is going to have several recipes as I try to catch up from my blogging hiatus. I was still taking pictures of our meals, just not sitting down to actually write a post!
Southwestern Grilled Shrimp - I found a recipe for a southwestern sauce to go with grilled shrimp in Mobile Bay Monthly magazine. Cameron found these huge shrimp at a local seafood shop (that's a quarter in the picture for comparison). They were perfect for grilling!
Southwestern Special Sauce
1/2 cup sour cream
juice of 1 lime
3 tablespoons chopped cilantro
salt and pepper, to taste
1 teaspoon cumin
1 teaspoon chili powder
1. Mix all ingredients together until well combined. Refrigerate until ready to use.
Makes approximately 3/4 cup.
It was a decent sauce, a little too sour creamy for us, but not bad. We also sliced up a fresh pineapple and added it to the grill. We brushed it with a marinade of honey, cinnamon, & lime juice that I found over at
skinnytaste.com
. So good!! I could make a whole meal on this!
The next dish I put together one night when I was on my own for dinner. No real recipe - I sauteed some garlic & onion with fresh gulf shrimp (that I found waiting in the fridge for me when I got home. My sweet hubby knows me well!), added a little white wine, and fresh tomatoes & basil from my garden. Salt & pepper, and serve over pasta. Yum! My kind of meal!
This next recipe just might be our favorite thing I've found on Pinterest to date -
Maple Dijon Chicken
aka Man-Pleasing Chicken. Delicious and so easy! (great dish - bad picture!) I served it up with some mixed potatoes - I love the purple ones!
Beer-battered fish tacos - We decided to try a different version of one of our favorite meals. This time we made a batter using self-rising flour & beer then dropped them in the fryer. Instead of our usual coleslaw mix, I made a mix of canned black beans, corn (baked then cut of the cob), avocado, tomato, cilantro, a little olive oil, lime juice, and cumin. The fish tasted really good on it's own - light and fluffy, but kind of got lost in the taco with the black bean salad. I'm a huge fan of the summer salads with corn, beans, and or avocado. I've made a couple of different recipes already, but just threw this one together.
One of the things on my foodie to-do list has been to find some new healthy lunch ideas. I saw this on Pinterest and decided to give it a try. Basically, you layer turkey, hummus, & cucumbers with a little paprika on some lettuce and roll it up. The original idea came from
here
. Good - yes. Easy to eat - no. Maybe I just need to give the whole lettuce rolling thing another try. Mine fell apart way too easy.
When Cameron and I made the spinach & feta quesadillas, we liked them so much we decided to try some different variations. We had baked chicken left over from the night before so we added that with some sliced avocado, crispy bacon, and cheddar cheese. Yum! Now we just need to find the perfect dipping sauce.
So I have been seeing quinoa all over Pinterest with people touting it's healthy qualities. So I decided to try it out. When I told Cameron about it, he laughed at my pronunciation. I was saying it like any good Southerner would - quinn-oh-a. Apparently it's pronounced kene-wah. Guess my husband is more of a foodie than he likes to admit! Our first attempt was
this recipe
for Blackened Chicken and Cilantro Lime Quinoa with an avocado cream sauce. Wasn't exactly pretty but good. I would recommend added half the lime juice. For some reason, my quinoa is not light and fluffy like it looks in the original blogger's picture. I also realized just how much I need to work on my photography...
The inspiration picture...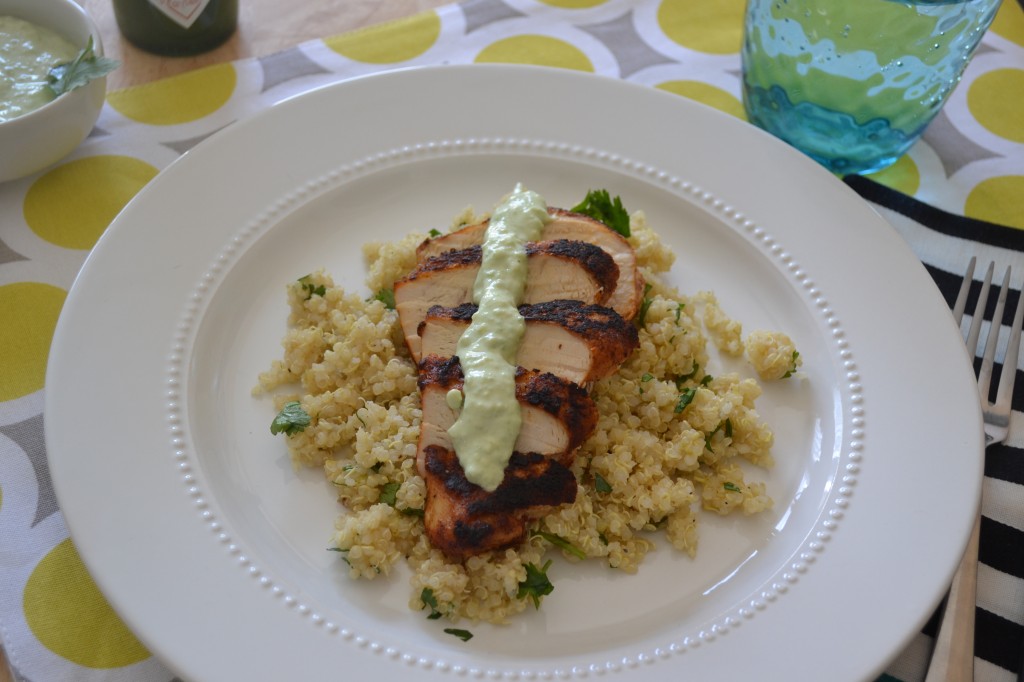 My picture...
Hey, at least I'm trying, right??